What's the Best Internet Speed for You and Your Household?
Image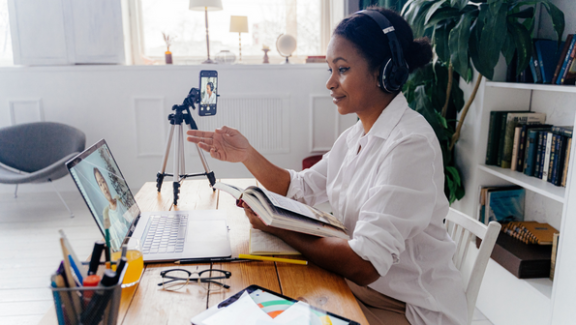 What an extremely important question especially when it comes to relying on a fast and reliable online connection as an integral part of our daily lives. Whether you're a solitary student or running a crowded household, the more people who are attempting to access the internet simultaneously, the greater the chances are for reduced speed and dependability or boring buffering times.
It's not just about single or multiple users logged in at any given moment which pushes online speed to its limits. It's more about what certain persons are doing and why they feel the need... the need for speed.  For example, while a single person might not stress a connection too much, gamers are really stretching bandwidth along with actions like accessing online video media conference platforms like Zoom. 
Weighing Your Options About This Important Decision
If you're already experiencing delays and dilemmas as described previously, you should definitely examine your options for better speed and reliability. For the best of the best when it comes to connecting, cruising, searching, streaming, uploading, downloading, and more, consider these choices:
Starter Internet - Maxx Advantage 150:

Get up to 150 

Mbps

download speed that's perfect for basic internet needs on a smaller scale at an affordable price tag.

Essential Internet - Maxx Advantage 250:

After our basic plan, take it to the next level with speeds up to 10X more awesome given this option.

Ultimate Internet - Maxx Advantage 550:

Remember when the speed limit on our highways and byways was 55 mph? The ultimate choice really pumps up the volume to 550 Mbps.

Supreme Internet - Maxx Advantage 1 Gig:

Just like a pizza, supreme is an excellent option for getting almost everything you want and need from a fast, reliable internet with a whopping 1 Gig-speed which is the equivalent of 1,000 Mbps.

Featured Package - Premium Gig Internet:

Go for this premium package and rest assured everyone in your entire household will be rocking and rolling online while gaming, streaming, shopping, and more. 
Especially for families or households with multiple users, take control over online access and usage with SmartNet that's powered by today's Eero technology. Now that you've got the speed you need, SmartNet allows access to an Eero router to enhance the overall internet interaction that blankets every corner of your house with excellent connections with:
PROTECTION: Every aspect of the Eero system brings the best in class when it comes to encryption and security protocols to keep your all-important data, network, and devices more secure from potential attacks. 
PARENTAL CONTROL: Don't let the term "parental controls" confuse potential users into understanding everything these options offer the master of the household. Along with restricting young eyes from adult content, this tool also allows control over other aspects of internet usage. 
MANAGEMENT: In addition to PC (not to be confused with being politically correct),  parental controls offer the setting of schedules for access during certain times of the day and the ability to create profiles for multiple users for better-individualized service. 
SUPPORT: Included in the SmartNet package is nearly ultimate access to the MaxxSouth team of Brainiacs with the best in advice, support, knowledge, and assistance with almost every aspect of today's technology. 
If you still have questions about your equipment, and how to connect different devices for the best possible performance, please reach out to us today. There are many options available from our qualified professionals by choosing the support tab on our home page. You're also welcome to come and visit us at any one of our many locations for a more personal, one-on-one, face-to-face experience. We're always looking forward to hearing from you and seeing our customers on your terms. 
Questions? Comments?
Contact the Marketing Team.