MaxxSouth Broadband Sponsors MSU Book Collection Competition
Image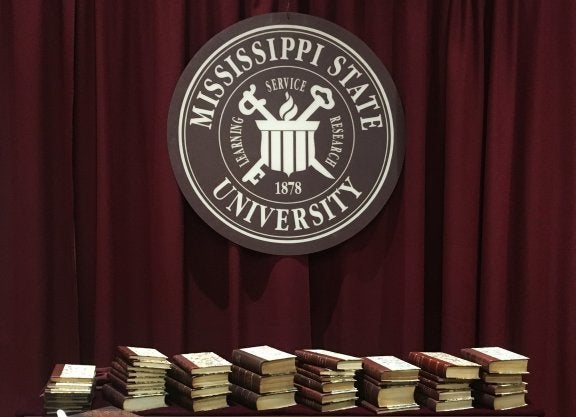 Winner will receive $1,000 and the chance to compete on a national level
STARKVILLE, Miss. (March 29, 2018) — Undergraduate students at Mississippi State
University have the chance to win $1,000 this semester by submitting a book collection featuring
a unifying theme. MaxxSouth Broadband—along with Mississippi State University Libraries—is sponsoring the contest, which runs from now until March 29.
"We are proud to be working with John Robinson Block and MaxxSouth Broadband on the Undergraduate Student Book Collecting Contest," said Fred Smith, MSU Libraries coordinator of rare books. "It is through the generosity of Mr. Block and MaxxSouth Broadband that this contest has been established and will continue for years to come. The goal of the contest is to promote books, reading, literacy and libraries."
To encourage students to participate, a first place prize of $1,000 will be awarded as well as a second place prize of $500. The first place winner of the contest will also be eligible to compete in the National Collegiate Collecting Competition, an event which is held annually at the Library of Congress in Washington, D.C.
Submitted collections are required to contain between 30 to 50 book titles and have a unifying theme, such as a specific topic, author or genre. Students must explain the chosen theme in an essay included with the submission. An annotated descriptive bibliography is also required as part of the submission. More information—including eligibility, complete contest rules and the application form—can be found here.
After all submissions have been received and judged, the three finalists will display their collections at Mitchell Memorial Library on MSU campus for the final round of the competition. First and second place winners will be announced in April at an awards ceremony.
"During my time as an undergraduate, I gained a fascination and appreciation of libraries and books," said John Block, owner of MaxxSouth Broadband. "For this reason, the MaxxSouth team hopes that students will build relationships with one another based on a mutual interest in reading."
On Feb. 5, 2016, John Block and MaxxSouth donated the most extensive collection of Mississippi Territory imprints published prior to 1817. This major collection of rare books is now housed in the Mitchell Memorial Library. The donation paved the way for the creation of the MSU Undergraduate Book Collection program and competition.
"The MaxxSouth team loves giving back to the community and sponsored this event to celebrate education and reading," Block said.
To learn more about MSU Libraries, visit lib.msstate.edu. For additional information regarding the contest, contact Fred Smith at fsmith@library.msstate.edu or 662-325-3848. For more information on MaxxSouth Broadband's community service, visit www.MaxxSouth.CommunityFirst.com.
About MaxxSouth Broadband:
MaxxSouth Broadband's service area for video, high-speed internet and digital phone stretches more than 200 miles and includes 23 counties and 65 communities in northern Mississippi and Alabama. The company currently has approximately 92,000 subscribers for broadband services and passes 114,000 homes. Operating as a subsidiary of the reputable and diversified media holding company Block Communications Inc., MaxxSouth Broadband continues to expand and enhance its state-of-the-art broadband network in the communities it serves. For more information, visit www.MaxxSouth.com.
Questions? Comments?
Contact the Marketing Team.