The Best Places to View Fabulous Fall Foliage and Amazing Autumn Colors in Mississippi
Image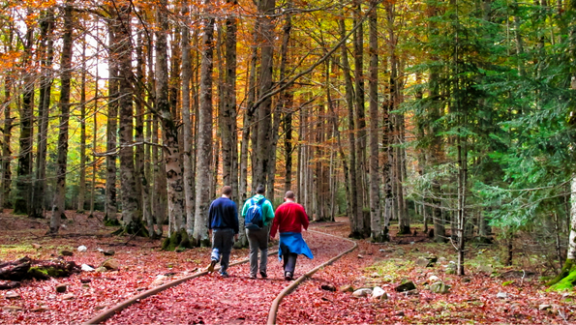 One of the best parts of living in good ole Mississippi is the gorgeous greenery and great scenery that's to be seen and explored in this area.  When summer months draw to a close and Autumn approaches, watching the fall foliage unfold is an excellent way to spend an afternoon. In this light, here are some of the best places to view nature's glory arriving in this region. Sorry to be so sappy (and pardon the pun), but these locations and the views available "in these here parts" (shameless Southern slang intended) are simply and absolutely amazing!
Holmes County
All around Holmes County are beautiful parts of the deep south that are not to be missed and the Autumn months are certainly no exception. This popular National State Park is home to beautiful hardwood forests with an abundance of wildlife and scenic backdrops for a plethora of playful outdoor activities. Given its convenient location near Interstate 55 carving its way through Northern and Southern Mississippi, this makes for many spectacular stops and favorite spots for locals and tourists alike to watch these colors unfolding in the Fall. 
Meadville's Majesty
The Homochitto National Forest in Meadville is by far an incredible place to experience Mississippi's changing colors and watch fall foliage unfold. With nearly 200,000 acres of nature to explore, these protected lands are a sheer sight (and site) to be seen. As the trees begin to change, these amazing hues are often reflected on the shores of the shimmering river by the same name as the park. Be sure to bring your camera or smartphone along to capture many majestic images available during your journey.
Natchez Trace Parkway
The namesake Natchez Trace Parkway acquired its title from the Native American tribe that traversed these trails for over 10,000 years. This mostly recreational roadway travels through three states and 444 acres of sensational sights and sounds. Along this historic route, along with seeing Mother Nature at its finest, visitors to this region will enjoy hiking, biking, horseback riding, camping, and so much more to explore along this pristine parkway. 
The Town of Oxford
Not to be confused with the college of the same name in nearby Georgia, the city of Oxford, Mississippi is also well known for its academic achievements, hard-core history, and scenic wonderlands. This town is also listed by Travel and Leisure as one of "America's Best Towns For Local Color." With a recommendation like that, it's hard to ignore a trip to this charming little city just about an hour east of Tupelo.
A Final Note: Following Road Tips, Rules, and Regulations
Before heading out on any of these amazing Autumn road trips be sure and check out these locations in advance for any rules or regulations that may be in place for your protection and the preservation of these lavish lands. For example, there might be road closures, construction delays, temporary shutdowns for renovations, or other restrictions. Most importantly, one thing to always remember is this simple suggestion: Leave nothing but footprints and take nothing but pictures.
And always stick to other cardinal rules when experiencing the great outdoors and exploring wilderness areas in general. Here's one of my favorites: When it comes to rubbish, remember, whatever you pack in, you need to pack it out. In other words, please don't be a dirty bird because littering and leaving trash behind is just nasty. Not to be a nag or "preaching to the choir" (another antiquated albeit beloved Southern expression), we all want to enjoy these natural wonderlands for many generations to come.
And finally, for more on local travel tips, today's top technology, local events, along with so much more, stay tuned to the MaxxSouth Blog, Community First. Feel free to follow us on Facebook, or another one of your favorite social media platforms, or contact us directly today. We're always looking forward to hearing from you. Enjoy the great outdoors and happy early holiday season!
Questions? Comments?
Contact the Marketing Team.