Safe Toy and Gift Month
Image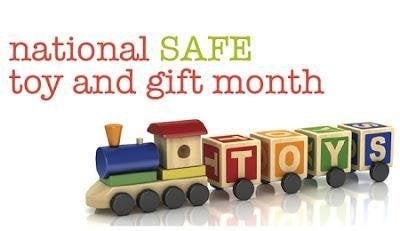 During December, participate in Safe Toys and Gifts Month. Since December is the biggest gift-giving month in the world, it's important to keep safety in mind as you're shopping for the little ones in your life.
According to the U.S. Consumer Product Safety Commission, 251,700 toy-related injuries were treated by hospital emergency rooms around the U.S. in 2010. Of those, 72% of them were people younger than 15 years old. A few years earlier, toymakers recalled over 19 million toys across the globe due to safety concerns like lead paint and small magnets. Since then, toy safety has improved, but shoppers can take precautions to keep children in their lives safe.
Buying toys and other gifts are one of the most exciting parts of the holiday season. I mean, who doesn't love watching a friend or family member open a gift and seeing their eyes light up with excitement?! In all the eagerness, it's easy to forget about simple safety. So before making any purchases this year, keep safety in mind, so the holidays don't turn from the happiest time of the year to the scariest!
Here are some ways to be sure you're shopping safely this year.
Make sure to inspect the toys before you buy them. Try to avoid toys with sharp edges, lots of little parts, or parts that can be easily pulled off. (Especially if it's for a baby or toddler)
Make sure the age and skill level marked on the toy matches the age and skill level of the child you're buying for.
Label check! Toys should have a label for ATSM (American Society for Testing and Materials) that proves it's up to standard. ATSM testing is more important than many people realize.
Do not give toys with ropes, cords, or that can heat up, and avoid crayons and markers unless they are labeled nontoxic.
Follow this advice, and your whole family is sure to have a very merry (and injury-free) holiday season!
Questions? Comments?
Contact the Marketing Team.