NATIONAL STROKE AWARENESS MONTH
Image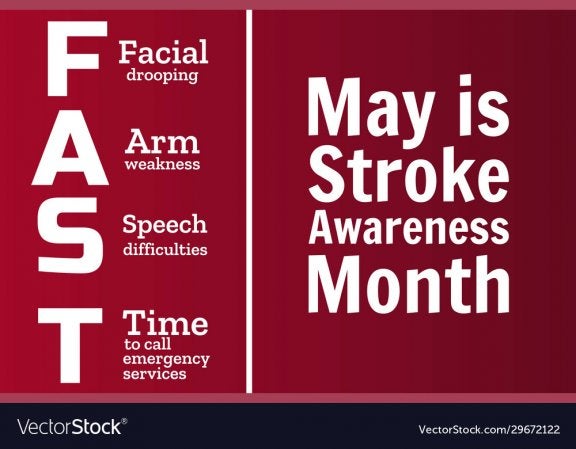 May is World Stroke Month.  Many health and heart organizations come together every May to raise awareness about the causes and effects of stroke. When it comes to stroke, every second counts! Nearly 2 million brain cells die each minute a stroke remains untreated. Rapid access to medical treatment often times make the difference between full recovery and permanent disability.
One of their biggest campaigns is FAST, teaching the world to know the symptoms of stroke and how to respond quickly to help save a life.
Face – By asking the person to smile you can tell immediately if one side of the face droops.
Arm – Ask the person to raise both arms. Observe to see if one arm drifts lower than the other.
Speech – Slurred speech is a symptom of stroke. Ask the person to repeat a single sentence.
Time – Call 911-Fast. Time may be the difference between life and death or even partial and full recovery.
The Facts:
1. Stroke can happen to anyone at any age.
2. 80% of all strokes are preventable.
3. Stroke is the fifth leading cause of death in the U.S. and a leading cause of severe disability.
4. On average, one person dies from stroke every 4 minutes.
5. More than 795,000 people have a stroke each year in the U.S.
6. Stroke kills almost 130,000 of the 800,000 Americans who die of cardiovascular disease each year—that's 1 out of every 19 deaths from all causes.
Ways to Prevent a Stroke:
Manage blood pressure

Control cholesterol

Reduce blood sugar

Get active

Eat healthy

Lose weight

Stop smoking
Questions? Comments?
Contact the Marketing Team.