National Bath Safety Month
Image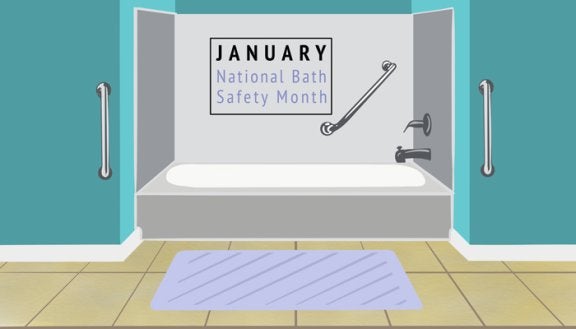 Throughout the month of January, National Bath Safety Month serves as a reminder to practice bath safety. The month is a great time to assess bath safety and make changes if necessary.
Before you grab the bubble bath and have a good soak, make sure you take a few precautionary measures to prevent an accident from happening to you or a loved one. Each year thousands of people, young and old, visit the emergency room due to bathroom-related slips and falls. The accidents that occur while bathing are often overlooked, but remind us of the importance of recognizing bathroom safety.
In the United States, more than 43,000 children suffer injuries due to slips and falls. However, children aren't the only ones this month-long observance seeks to protect. Adults of all ages slip and fall in the tub. There are steps that can be taken to make your bathtub safer.
Install slip-resistant strips or mats on the floor of the bathtub or shower.
Add grab bars.
Install a shower seat.
Use a nonslip rug to prevent slips and falls when exiting the bath.
Check the temperature of the hot water heater. The standard temperature is 120°F to avoid scalding risks.
Add a spout cover to the faucet to protect heads and other body parts in the event of a fall.
It's also important to never leave children unattended in the bathtub. Preventing bathroom accidents is easy if you take the right precautions and your family will thank you!
Questions? Comments?
Contact the Marketing Team.