How Much Streaming Data Does Netflix Use?
Image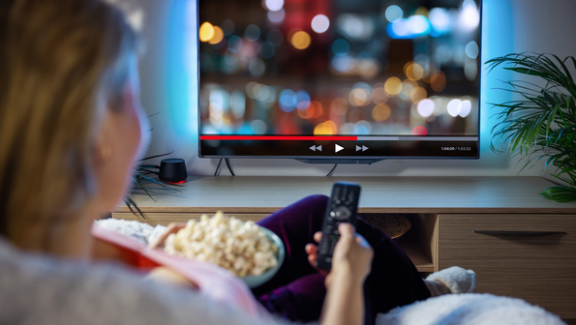 Video streaming is the next big thing in the entertainment industry. More people are getting a soft spot for streaming videos and audios. At the same time, companies like Netflix, Hulu, and Spotify are offering on-demand streaming services to meet this demand. The good thing is that you are not limited to using your laptop or tablet while streaming; you can also use your phone. Unfortunately, streaming uses loads of data in an era where internet data caps are a reality. While some consumers have devised ways to stream videos and audios data-effectively, others have limited the service to prevent their internet bill from getting out of hand.  
Imagine you just signed up for Netflix to catch the latest blockbuster movies and series. You can't wait to watch the latest releases ranging from Bird Box to Apostle and Triple Frontier. You start streaming the Vietnam War drama Full Metal Jacket while your sister in the other room is streaming a romantic comedy Crazy Stupid Love on her iPhone. Suddenly you receive a notification that you are running out of data.
Does streaming on Netflix consume that much data?
Let's start with the fun facts. First, data is not free and video uses a lot of data. Therefore, because you are streaming video on Netflix, you definitely use a lot of data. Second, your internet provider is in business to make money. That means that there's a probability of a cap in the data you use monthly and extra charges for surpassing the set amount. This causes headaches for Netflix subscribers who would like to watch much content but are limited by the data caps and avoidance of extra charges. MaxxSouth Broadband can eliminate these headaches by offering you data plans that meet your streaming needs. Plus, we have StreamTV which you can stream at home without using any of your MaxxSouth Broadband data.
The question that follows is 'how much data does Netflix use?' The answer is simple 'it depends.' It depends on two principle things namely the length of the film you are watching and the resolution you are using. Watching a show that takes 30 minutes does not use the same amount of data as watching a 2 hours long movie. The longer the film, the more data you use. The resolution you use also affects the amount of data you use. According to Netflix, you use about 1GB of data per hour for streaming a TV show or movie in standard definition and up to 3GB of data per hour when streaming HD video.
Nevertheless, you can change the data usage settings in your Netflix account to reduce the bandwidth Netflix uses and hence lower data consumption. Netflix offers four data usage options discussed below.
Low resolution:

you get 0.3GB per hour per device. This resolution is ideal when you use your phone to watch movies or you are running low on your monthly data. It does not guarantee you the clearest picture but is okay when you are on a budget. Also, your child won't mind the resolution when streaming kids' stuff on Netflix.

Medium resolution

: it is the standard resolution and you get 0.7GB per hour per device. This resolution is not bad when you are not a budget but don't expect the best image on the screen.

High resolution:

this resolution guarantees the best video quality but definitely, at a price; you use a good amount of data. You get up to 3GB per hour per device for HD videos and 7GB per hour per device for Ultra HD video.

Auto resolution:

this resolution adjusts automatically to offer you the best possible quality of video based on the speed on your internet connection.
How do you adjust these settings and thus control the data you use?
It's quite straightforward. Here are the steps.
Sign in to your account

Select the profile to change setting on.

Click on Playback setting from the account setting tab.

Choose the resolution you want; low, medium, high, or auto.

Click on save and you are good to go.
One cool thing about Netflix is that you don't have to always stream your movies and shows. You can download content and view it later when offline. This saves you a huge chunk of data. The download option and view later is available on both Android and iOS Netflix apps. However, this feature is not without a catch. You can only download specific content including but not limited to Orange is the New Black, To Kill a Mocking Bird and Stranger Things. The good thing is that downloadable content is a mix of contemporary and classic films in different genres. If you can't get enough of the series Scandal or Jane the virgin, just download it and you can re-watch it ten times.
With Netflix's download option, you can never get bored. Your phone becomes a portable TV and you can watch films on your long car ride, boring flights, or just spend the whole night on the sofa. How do you download a movie on Netflix? It's simple; use your Netflix app that is available for Android and iOS. You can also use the Netflix app for Windows 10 on your laptop. Open the Netflix app, choose the download quality and choose the download option (where available). Lastly, enjoy your offline viewing.          
In the current digital age, prolific media streaming is the order of the day. Netflix is leading the pack by offering numerous movies and series that you can stream and download. Unfortunately, the current age also comes with capped data packages for home internet users. This makes it necessary to know how much data Netflix uses when streaming movies and TV shows.
If your streaming is slow –which is very annoying and frustrating- or you experience problems downloading video content, you may consider switching internet providers. MaxxSouth Broadband is the ideal internet provider that lets you purchase an internet plan depending on the amount of content you stream. Call us today on 800-457-5351 or visit our website on to view our internet plans and choose the one that best meets your needs. You get high-speed internet and exceptional customer service as a bonus.     
Questions? Comments?
Contact the Marketing Team.