Highly Anticipated Family Friendly Movies Hitting Screens in 2023
Image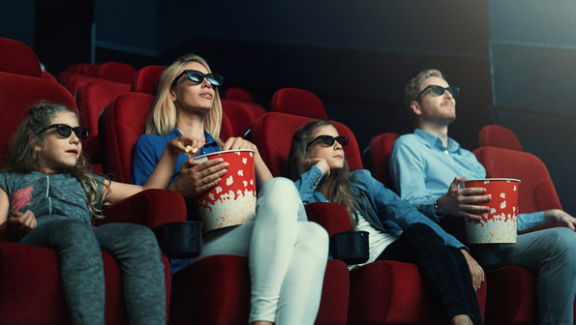 One of the many ways we're all looking forward to a New Year is by waiting for highly anticipated movies that are scheduled to hit screens of all sizes. Whether we're seeking to watch originals, sequels, reboots, or remakes coming to theaters or streaming services this year, here are some of the best-of-the-best of these family-friendly classics coming in 2023 in order of their release dates:
The Super Mario Bros. (April 7, 2023)
While many of us enjoyed playing this popular video game as a child, the title roles have really stood the test of time. Today, people of all ages are still controlling these little dudes through adventures both old and new. In the movie, Chris Pratt (Jurassic Park films) is voicing the plucky plumber along with Charlie Day (The Lego Movie) who portrays his fraternal twin brother Luigi in the Mushroom Kingdom. Soon they encounter Toad (Keegan-Michael Key), Princess Peach (Anya Taylor-Joy), Bowser (Jack Black), and Donkey Kong (Seth Rogen) in this presentation of The Super Mario Bros. movie.
The Little Mermaid (May 26, 2023)
Perhaps THEE most highly anticipated movie of 2023 is the live adaptation of Disney's The Little Mermaid which has audience members both young and old looking forward to this fish-out-of-water tale (or tail). Songstress and actress Halle Bailey (not to be confused with Halle Berry) will bring the voice of Princess Ariel to life along with Jonah Hauer-King (who starred in the critically acclaimed Little Women movie) as Prince Eric. On a personal level, I'm anxiously awaiting the portrayal of Ursula by legendary actress and comedian Melissa McCarthy.
Spider-Man Across the Spider-Verse (June 2, 2023)
In the shadow of the Oscar-winning animated film Spider-Man Into the Spider-Verse, he will go across this make-believe universe in another cartoon featuring the web-spinning superhero. Spider-Man (aka Peter Parker as voiced by Jake Johnson of the television series New Girl fame) will be joined by Issa Rae (starring in Black Panther) who portrayed Spider-Woman/Jessica Drew in the past presentation with Shameik Moore (Let It Snow) returning as Miles Morales.
Barbie (July 21st, 2023)
Margot Robbie and Ryan Gosling both bear a remarkable resemblance to Barbie and Ken respectfully as they portray these beloved dolls from our past and current childhoods. Greta Gerwig (Little Women) is behind the camera as the director and the film is being at least partially produced by Robbie who is playing the title role. Partially penned by Noah Baumbach (The Squid and the Whale), the story will follow the world's most famous doll after she's been banished from Barbieland and thrust into our world.
Wonka (December 15, 2023)
Just in time for the holidays, Timothée Chalamet (Dune) will step into the shoes in the lead role of a young Willy Wonka in this original prequel to this classic tale. Before he was a world-famous chocolatier, the movie will show viewers when Wonka first crosses paths with the Oompa-Loompas. Joining the cast are comedians Keegan Michael-Key and Rowan Atkinson along with Olivia Colman and Sally Hawkins. Following the critically acclaimed success and direction of the Paddington movies, fans of Paul King are looking forward to his adaptation of this story. 
BONUS: A Possible Addition to the Ghostbusters Franchise of Films
Details are sketchy about a possible albeit still untitled sequel unfolding in the Ghostbusters franchise of spooky yet hilarious movies. Fans of these films remember a teaser at the end of Afterlife that hinted at another movie being set back where it all began in New York City at the original firehouse. However, sources over at IMDB (International Movie Data Base) are confident the flick will be released sometime in 2023 and might include Paul Rudd (Ant-Man and the Wasp) with rumors swirling about the return of cast members returning from the very first films. 
Finally, for all the best in family-friendly entertainment, MaxxSouth Broadband offers plenty of different channels and premium platforms to choose from for viewers of all ages. Check out our many affordable cable packages that give the best option for you and your entire family regardless of age and interests. Also and in closing, here's hoping you and yours have a very happy and prosperous year in 2023.
Questions? Comments?
Contact the Marketing Team.