Halloween Safety Month
Image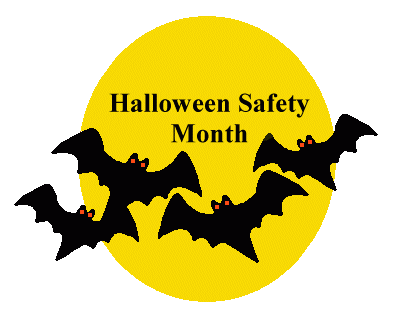 Halloween Safety Month is an annual designation observed in October. Halloween is a fun holiday for friends and families, but since it usually involves being outdoors late into the evening, it's important to keep safety in mind when you're out celebrating this spooky holiday. The National Safety Council says in 2013, an estimated 6,100 pedestrian deaths and 160,000 nonfatal injuries occurred among pedestrians in motor vehicle incidents. So be safe out there!
Make preparations in order to have a safe Halloween this year. Kids and adults love the magic of Halloween. From trick-or-treating, to dressing up in elaborate costumes, to festive parties or get-togethers. It's fun to have a good time with your friends and family! But, in order to keep the good times rolling, everyone needs to make sure they stay safe. Here are some tips to remember this Halloween. 
If you're sending kids out trick-or-treating, make sure they have something bright and reflective on their costumes. That way, people driving will be able to see them after dark.
Make sure your child can see! Masks and large hats or wigs can block vision. If you can use makeup instead of a mask, it's not a bad idea.
All costumes should be fire-resistant.
Accompany your little ones on their neighborhood trick-or-treating if they are under 13 years of age. (This can depend on the child, and where you live.)
Tell your kids to stay in large groups, and in as much light as possible if they're out alone after dark.
If possible, allow them to carry a cell phone for quick, easy communication.
Agree on a time that your children should be back at home.
If you are out driving, remember that kids tend to dart across streets, and generally aren't paying as much attention to their surroundings as we hope. Slow down, and keep your eyes peeled.
Make sure any Halloween makeup is non-toxic and taken off before bed.
Mainly, remember to stay alert, have a few rules for little ones, and have a fun, safe Halloween night!
Questions? Comments?
Contact the Marketing Team.