Get Red-Carpet: Enjoy These Academy-Award Winning, Cringe-Worthy Oscar Moments, and MORE!
Image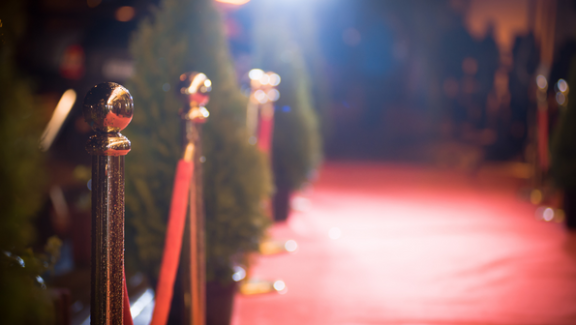 Many movie fans also enjoy watching the Oscars a time-honored tradition dating back to the very first of these events unfolding nearly one hundred years ago on May 16, 1929. It began with a gala dinner at the Blossom Room of the Hollywood Roosevelt Hotel when Academy Award winners were presented with the signature gold statues honoring their work in the budding cinematic industry from August 1927 through 1928 in the same month.
On and Off the Red Carpet
From last year's slap heard (and seen) around the world to many other memorable and historic moments from these events, there's plenty to explore about these elaborate presentations. Most of us are well-versed with the very best dressed walking the red carpet, to questionable acceptance speeches, famous slips, and trips. Perhaps we should arm ourselves with this type of trivia to blow away the competition at a Q&A or trivia event. Let's find out together starting where it all begins - on the red carpet.
Judging Eye-Opening Wardrobe Choices
Okay, I'm guilty as charged since I usually view the prequels to these events when watching (and judging) celebrities strolling down the red carpet in their often unusual outfits. Who wore it best? What designer was showcased as the most stylish example of a new ensemble? Think of it this way, fashion mogul Vogue magazine has always had their eye on what's hot and not when they recently posted this article showcasing "16 Outfits That Caused a Stir": 
In another amazing

Bob Mackie creation/collaboration designed specifically for Cher

, she showed up baring her belly button in 1986 (considered quite risque at the time) shocking and awing audiences by wearing a revealing, super stunning, black-and-white feathery ensemble.

On the other hand (or wing), what was the deal when singer/songwriter Bjork showed up looking like a chicken (sorry it was supposed to be a beautiful swan) with that semi-nude-ish feathered disaster dress that laid a serious egg on the red carpet?

While Whoopi Goldberg has always spoken her mind on and off-screen, her appearance in a purple and green brocade jumpsuit with matching shoes seriously turned heads at the 1993 Oscars.

In 2013, Jennifer Lawrence took a memorable stumble climbing the stairs to receive her Oscar after she successfully shrugged off her trip-and-fall incident taking it all in stride which was likely (or at least partially due) to the stunning train on her glorious ball gown. 

It's usually the gals that turn heads wearing their designer dresses, however, and more recently in 2019, it was Billy Porter's gender-bending half-ball gown, part tuxedo, that was shining under the spotlight.
HONORABLE & GOLDEN MENTION: Who could forget when the best-costume designer nominee Lizzy Gardiner showed up on the red carpet in 1995 wearing a remarkably unique dress made up of 256 gold American Express credit cards strung together as a gown? As a matter of fact, Gardiner went on to take home the gleaming statue for her work designing the elaborate outfits worn in The Adventures of Priscilla, Queen of the Desert filmed in her native country of Australia.
So, as we watched previously, our beloved celebrity favorites arrive at these ceremonies in all their glory (or gory) designer garb. Some of them went on to grab headlines and made many other memorable moments when they arrived on stage. For example, Sally Field made a tearful speech when she received the award for the Best Actress Award when she said, "You like you like me, right now, you like me!" So who can guess which of these roles inspired this short spurt of gratitude coming from one of America's favorite sweethearts appearing in many beloved films?
Places in the Heart

portraying the lead of Edna Spaulding

Her namesake role in Norma Rae
Playing alongside Burt Reynolds in Smokey and the Bandit
The lovable maternal influence of Mrs. Gump (Forrest Gump)
If you picked the first option, you were correct. Fields found a place in the Academy's heart as a poor, widowed, young mother struggling to raise two small children on a failing farm set during the devastating Dust Bowl drought associated with the Great Depression in the 1930s. Taking home the Oscar for this moving portrayal helped to cement her place as a rising star in Hollywood.
BONUS FAST FACTS:  Speaking of cement, Sally got a star on the Hollywood Walk of Fame on May 5th, 2014 and she's still delighting audiences today. Recently, she united with other beloved on-screen legends in a tribute to the GOAT (Greatest of All Time) quarterback in the film 80 For Brady. For example, the flick also stars Jane Fonda, Rita Moreno, and Lily Tomlin. Other notable cast members will obviously include Tom Brady himself along with one of his favorite receivers Rob Gronkowski. Look for Harry Hamlin (an older actor) and Billy Porter (newer to the cinematic scene) and a pop-up performance from popular Chef Guy Fieri.
More Comedy With Less Drama and Trauma
Considering that cast as showcased above, some believe that only actors portraying characters in sweeping historical dramas, stories of war-torn events, total tragedies, and the like will always capture the eye for an Oscar glance. However, a best supporting actor award went to a more light-hearted fare coming from the likes of Kevin Klein when he starred alongside Jamie Lee Curtis in A Fish Called Wanda.
While Mr. Klien took home the statue, still other nominations were also in the air for this cult classic, a flighty British fan-favorite flick. It was also in the running for Best Director (Charles Crichton), excellence in writing with a nod for Best Original Screenplay.
Curtain Call
Now that the curtain has closed on this topic, are you looking for more of these amazing moments, memorable films, and more to explore with your entertainment package? Whether it's these iconic blasts from the past or new and original programming, there's plenty to choose from in many different, affordable options. Feel free to contact us today at any one of our many convenient locations for more information.
Questions? Comments?
Contact the Marketing Team.