Tailgate the Town in Starkville
Image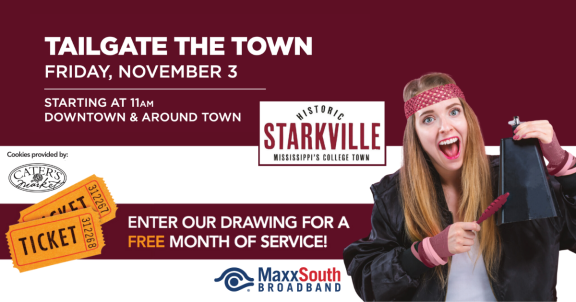 The time has come! Excitement is building, and the maroon and white spirit is soaring high in Starkville. This year, "Tailgate the Town" is back, and it's bigger and better than ever!
What is "Tailgate the Town"?
For those who might not know, "Tailgate the Town" is an annual event right before Mississippi State University's Homecoming. This year, the celebration kicks off on Friday, November 3rd, at 11 a.m. and it's all about showing your support for the Bulldogs in style. The campus is buzzing with energy, and the entire community is coming together to make it a memorable day.
You won't want to miss out on this amazing event. It's all about celebrating in unity and showing your maroon & white spirit. It is the perfect place to enjoy the sports you love with the people you love.
Win a Free Month of Service (And Get Free Cookies While You're At It)
But the excitement doesn't stop there. MaxxSouth Broadband will also be in attendance and will be hosting a drawing for a free month of service. Yes, you heard that right! One lucky winner will have the chance to enjoy a month of top-notch Internet and cable services courtesy of MaxxSouth Broadband. So, make sure to drop by and participate for a chance to score big!
Cookies from Cater's Market - Starkville
To sweeten the deal, Cater's Market (Starkville) has generously stepped in to provide delicious cookies MaxxSouth will be giving away during the event. What's a tailgate without some tasty snacks, right? Their mouthwatering cookies will undoubtedly be a hit among the Bulldogs' faithful.
Local Businesses Unite!
Just like MaxxSouth, other local businesses are encouraged to get in on the action by tailgating with their staff and customers. It's not just about watching the game; it's about celebrating and creating a sense of community. Businesses should put their customers first and connect with them, and showing up to support this event is one way to do so.
Greater Starkville Development Partnership, a vital organization in Starkville, will share and promote all the tailgates happening around town in the week leading up to the event. So businesses and attendees should make sure to check them out to stay updated! (MAY DELETE THIS PARA - Please let me know your opinion) - you can keep this paragraph!
Join the Fun - Hail State!
So, mark your calendars for Friday, November 3rd. Whether you're a die-hard Bulldog, a local business owner, or just someone who loves a good time, "Tailgate the Town" is the place to be. Gather your friends, deck out your business in maroon and white, and get ready to cheer on Mississippi State University.
Homecoming is a time for celebration, and "Tailgate the Town" is your chance to kickstart the festivities in style. Bulldogs, beverages, bites, and balloons - what more could you ask for?
Enjoy this community-focused content? MaxxSouth is always staying updated on all things Mississippi. Check out our other "happening in your area" content on the MaxxCommunity blog anytime.
Questions? Comments?
Contact the Marketing Team.