Pontotoc Food Fight 2022
Image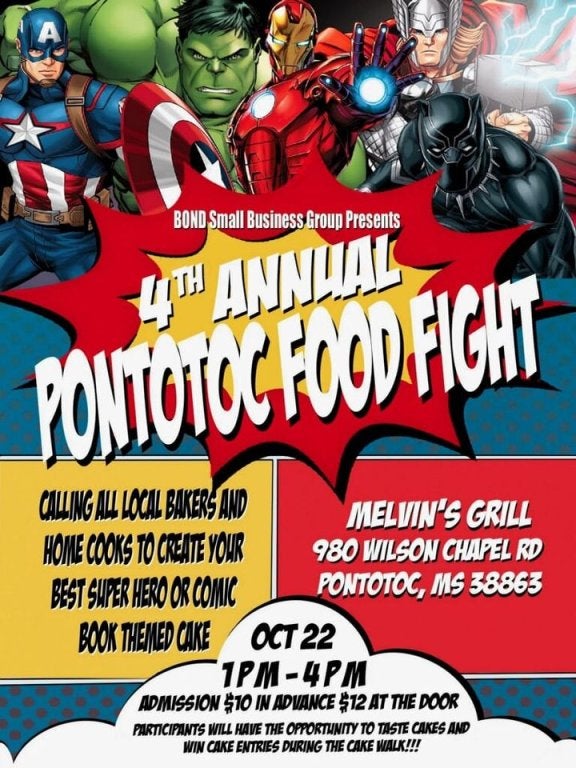 Join us on Saturday October 22 for the return of the 2022 Pontotoc Food Fight. This event will be held at Melvin's Grill in Pontotoc MS.  This will be MaxxSouth Broadband's first appearance and we're looking forward to this amazing Comic Book Cake event! We can't wait to see what the bakers who have been preparing for this spectacular event brings for us to taste and see! The event is hosted by BOND Small Business Group which is also out of Pontotoc MS.  Organizer & CEO of BOND Small Business Group Jessica Starks stated "We are thrilled to be able to bring back the Pontotoc Food Fight in 2022 since we've had to cancel due to COVID breakouts over the past two years.  We have some extremely talented bakers registered this year and we can't wait to see what they create this year!"
Bakers have the chance to win in three categories: Fan Favorite, Best Dressed Cake, and 1st Place Overall. Attendees choose fan Favorites; however, Best Dressed Cake and 1st Place Overall will be selected by three judges. The bakers, however, will not be the only winners. Attendees will also have the chance to take home one of the competing cakes by participating in a cake walk.
The contestants for the 2022 Pontotoc Food Fight are:
Temeika Hoskins (A'Mayzen Cakes & Treats; Tupelo, MS)

Jim Mull (Pontotoc, MS)

Wilma Sartin (Pontotoc, MS)

LeeAnnn Nickell (Cakes R Us; Tupelo, MS)

Jazzlynn Hickman (Jazzie Treats; Water Valley, MS)

Jalisa Pratt (The Cake Lady Cakes & Treats; New Albany, MS)

Anjelica Lewis (Kakez and Kreationz By Triege'; Senatobia, MS)

Beth Hurst (Pontotoc, MS)

Delance Fortson (Okolona, MS)
The judges for the 2022 Pontotoc Food Fight are:
Jeff Jones - Restaurant promoter and food blogger at Eating Out With Jeff Jones

Bradley Golden - Comic book creator and CEO/Founder of Second Sight Publishing

Reggie McKinney - Artist, Youtuber at Riding With Reggie, owner of McKinney's Marketing, and comic book commentator.
"We are also excited about our panel of judges this year; It's always a pleasure to have people on board who are excited about food and our theme." Jessica also stated.
The event will be held from 1 pm – 4 pm. Tickets can be purchased online for $10 or at the door for $12. Kids 5 & under, as well as #TeamBOND members, may attend for free.
Bonds Small Business Group would like to extend special thanks to our current sponsors, MaxxSouth Broadband, J.D. Scribes, Dabby's Kitchen, Photography by Larissa, Myra's Quiet Corner, Eating Out With Jeff Jones, Second Sight Publishing, and Above & Beyond Sweets.
BOND. Small Business Group is an organization based in Pontotoc, MS. Its mission is to help small businesses in Pontotoc and the surrounding counties grow and improve their businesses while connecting and giving back to the community.
If you would like more information about this event or BOND. Small Business Group, please call (662) 586-1156 or email bondpontotoc@gmail.com.
Questions? Comments?
Contact the Marketing Team.