Art in the Park
Image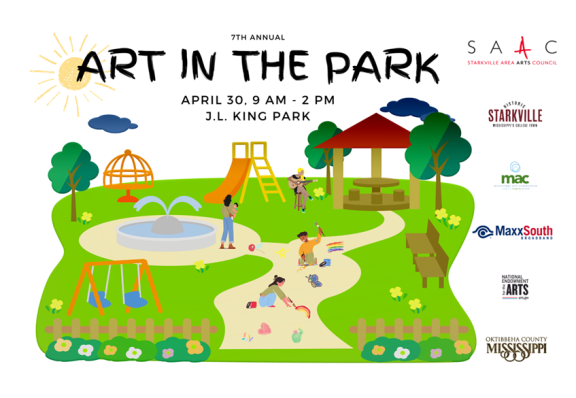 Starkville Area Arts Council (SAAC) is excited to announce that Art in the Park is returning!  
SAAC will host the 7th Annual Art in the Park that will take place Saturday, April 30 from 9 a.m. until 2:00 p.m. at J.L. King Park in Starkville. This children's "art festival" is a FREE, hands-on event, designed to inspire and promote creativity in young people.
A wide range of art activities have been planned for kids to enjoy, with various local community and civic groups supporting this annual event. Many local artists serve as demonstrators and instructors, where youth are allowed to create art they can take home. Hands-on musical experiences may include drums and string instruments. Our popular, temporary mural wall will also be on site for families to paint.  Other activities may include but are not limited to jewelry making, pottery making, dancing, word blocks, yarn art, and reading and writing.  This year, snacks will be provided for free to attendees between 11:30 am and 1 pm while supplies last. Adults must accompany the children in attendance.  Bring the family and come out for a day of fun filled adventures & activities.
Questions? Comments?
Contact the Marketing Team.