MaxxSouth Apps
Image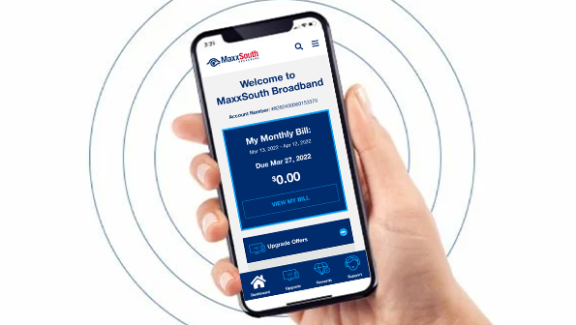 MaxxSouth Broadband offers our customers several apps available for download in the Apple or Google Play Store to enhance your experience.
myMaxxSouth app
Manage your MaxxSouth Broadband account on-the-go with the myMaxxSouth app. The myMaxxSouth app will allow you to pay and manage your bill, upgrade your current services, earn rewards, troubleshoot your equipment, reset your modem, and more.
MaxxSouth TV
MaxxSouthTV powered by MaxxSouth's Broadband is a streaming video service that lets you watch live TV and your favorite local channels, plus tons of On Demand programs, all in one app, installation is as easy as downloading the app and signing up for services with one of MaxxSouth's customer support agents. 
MaxxSouth Rewards
The MaxxSouth Broadband Rewards mobile app is the easiest way to earn rewards on your phone. It's the smartest way to earn credits toward your bill. Save money while shopping for your next trip or on things you buy every day. The MaxxSouth Broadband Rewards app works with thousands of popular nationwide store websites.
MaxxSouth Mail 
MaxxSouth Email makes reading and sending emails across multiple accounts and devices a breeze. With any time, anywhere access, manage personal and business email, contacts, and calendars from your desk and while on the move.
SmartNet by Eero
SmartNet by eero is designed to support dozens — even hundreds — of connected devices. See which devices are connected to your network and check their data usage, in real time. Protect, manage, and control your devices easily through the eero app.